Here's your daily devotional!
If you wish to receive these free devotionals every weekday by E-mail, click the button below. Note: you'll have to log in or create your membership account first. Membership in the League is free. Join now!
Sign up to receive the Daily Devotional
"Our Walk is a Representation of Our Faith"
1 Corinthians 5:8
Therefore let us keep the Festival, not with the old bread leavened with malice and wickedness, but with the unleavened bread of sincerity and truth.
Thoughts for Today:
In our passage today, Paul is not talking about how we are saved. Rather he is addressing the walk of a believer after he has been saved. Sincerity and truth are the two characteristics he picks as counterparties to malice and wickedness. Why? Because the Corinthians were pretending that everything was alright when it wasn't. They acted as if they were living in truth when in reality it was just the opposite.

Robert E. Gibson once wrote, "A Christian is a keyhole through which other folk see God." How do you think the non-believers in the City of Corinth viewed the Gospel as represented by the church? Not too favorably I would guess.

James L. Christensen proposed, "The purpose of Christianity is not to avoid difficulty, but to produce a character adequate to meet it when it comes. It does not make life easy; rather it tries to make us great enough for life." Paul says that our walk is a representation of our faith. Therefore our lives should be full of sincerity and truth, not malice and wickedness. What does your life say about your faith?
Questions to Ponder:
Is your character ready for the difficulties ahead? Commit today to a life full of sincerity and truth. Not in harshly spoken words to others, but about yourself. Make your word your bond. Be sincere, dependable and genuine.
Sign up to receive the Daily Devotional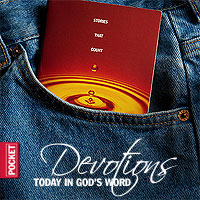 There's nothing like God's Word to create purpose in your life that lasts the entire day and beyond. We encourage you to Read, Carry and Share the Word of God. Pocket Devotions are sent by E-mail every weekday (Monday to Friday). On weekends we encourage you to be creative and study on your own in any area of Scripture where God leads you.
You can start from Day 1 at any time. Messages are sent automatically. Subscribe now! You may unsubscribe at any time.
About the author
Pocket Devotions are written by Mike Brooks. A retired businessman, he is Moderator of South Shores church, leads the Deacon Board, serves on the finance committee, and he teaches a Men's Bible study and the Men's Ministry. Mike has a passion for evangelical missions. He is the husband of Sherry; the father of Ryan, Natalie, Krissy, Rebecca, and Amanda; the father-in-law of Ariel; and the grandfather of Conner and Christian.