Here's your daily devotional!
If you wish to receive these free devotionals every weekday by E-mail, click the button below. Note: you'll have to log in or create your membership account first. Membership in the League is free. Join now!
Sign up to receive the Daily Devotional
"Changing the Audience not the Message"
Acts 19:8-9
Paul entered the synagogue and spoke boldly there for three months, arguing persuasively about the kingdom of God. But some of them became obstinate; they refused to believe and publicly maligned the Way. So Paul left them. He took the disciples with him and had discussions daily in the lecture hall of Tyrannus.
Thoughts for Today:
Paul taught in the synagogue but found many of the minds there to be hardened and unmoved by his arguments. Undeterred, Paul left them and began teaching in the lecture hall of Tyrannus. The same should hold true for us as well when we share the Gospel yet are met with resistance--sometimes we simply need to move on!

In the Parable of the Sower (Matthew 13:3-8) Jesus tells us, "A farmer went out to sow his seed. As he was scattering the seed, some fell along the path, and the birds came and ate it up. Some fell on rocky places, where it did not have much soil. It sprang up quickly, because the soil was shallow. But when the sun came up, the plants were scorched, and they withered because they had no root. Other seed fell among thorns, which grew up and choked the plants. Still other seed fell on good soil, where it produced a crop--a hundred, sixty or thirty times what was sown."

The point I wanted to make from the illustration of the Sower and the example of Paul from our passage today is this: Just because we might be met with resistance, stubbornness, and outright slander ("publicly maligned") doesn't necessarily mean we need to change our message. Rather it might mean we just need to change our audience--search out a more fertile ground. Jesus finishes the Parable of the Sower with these words, "He who has ears, let him hear." I think that's pretty clear, an audience must have the desire to listen.
Questions to Ponder:
Paul never gave up on his people, the Jews. In fact the synagogue was where he went to speak about Jesus whenever he entered a new town. However, just because many of his own people refused to listen, that did not change Paul's message. He didn't conform his message to gain the acceptance of his audience. He simply moved on from the Jews and took his message to the Gentiles. Have you become frustrated with "your" people (friends, relatives, or family members)? Rather than changing the message of Jesus, perhaps it's time to look for a more receptive audience. Look around, who have you over-looked that might need and want to hear about Jesus? Make a list today of those who might be more receptive. Begin praying for them. Look for opportunities to share the gospel.
Sign up to receive the Daily Devotional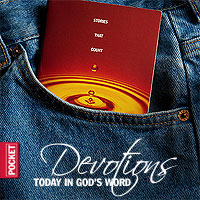 There's nothing like God's Word to create purpose in your life that lasts the entire day and beyond. We encourage you to Read, Carry and Share the Word of God. Pocket Devotions are sent by E-mail every weekday (Monday to Friday). On weekends we encourage you to be creative and study on your own in any area of Scripture where God leads you.
You can start from Day 1 at any time. Messages are sent automatically. Subscribe now! You may unsubscribe at any time.
About the author
Pocket Devotions are written by Mike Brooks. A retired businessman, he is Moderator of South Shores church, leads the Deacon Board, serves on the finance committee, and he teaches a Men's Bible study and the Men's Ministry. Mike has a passion for evangelical missions. He is the husband of Sherry; the father of Ryan, Natalie, Krissy, Rebecca, and Amanda; the father-in-law of Ariel; and the grandfather of Conner and Christian.