Here's your daily devotional!
If you wish to receive these free devotionals every weekday by E-mail, click the button below. Note: you'll have to log in or create your membership account first. Membership in the League is free. Join now!
Sign up to receive the Daily Devotional
"To Whom Do You Belong: the Law or Jesus?"
Romans 7:4a
So, my brothers, you also died to the law through the body of Christ, that you might belong to another, to him who was raised from the dead...
Thoughts for Today:
Legend has it that before the Civil War, a handsome plantation owner met a beautiful young woman, whom he married and brought to live at his home in the south. Unfortunately, he soon became ill and after a short time died. The woman was heartbroken. Much to the concern of her friends, rather than burying her dead husband she had his body embalmed, placed upon his favorite chair, enclosed in an airtight glass container, and then placed in the entryway of their mansion. Whenever someone came to visit they would immediately be confronted by the stern visage of her dead husband.

Clearly this wasn't going to work out so her friends encouraged her to do some traveling. At first the young widow went north, then abroad; eventually returning to her home two years later accompanied by a new husband. As the new husband lifted his bride across the threshold of the home they would now share -- what was the first thing he saw? That's right -- the glare of her former husband, still seated in the entryway. She had forgotten about him. They both decided the right thing to do was to bury him.

I realize this is a rather ridiculous story, however here's the point I'm trying to make: When Christ died the Law died with him. Therefore, what is the purpose in trying to retain old rules and regulations (the body of Law), if it is dead? Yet there are believers today who continue to dig up the Law and place it in the middle of their homes -- in fact many have never buried it. If that is the case, then for what purpose did Christ die?
Questions to Ponder:
Have you ever gotten up early in the morning -- read your Bible and prayed -- then smugly thought: "I wonder how many other Christians were up this morning to read and study like me?" Or gone to a church event, looked around the room, then self-righteously judged those not in attendance? We Christians have a tendency to make rules for godly living -- which we then apply not only to ourselves but to other people as well. The only problem is no one can keep all our laws. Sure for a time we can be "good", but then even the best of us will slip and become unfaithful. Have you been guilty of making up your own laws? Have you judged other people based upon a legalist's approach? Is replacing Mosaic Law with our own the message of Jesus Christ? Why did Christ die? To whom do you belong? The Law or Jesus?
Sign up to receive the Daily Devotional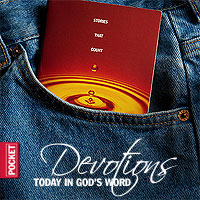 There's nothing like God's Word to create purpose in your life that lasts the entire day and beyond. We encourage you to Read, Carry and Share the Word of God. Pocket Devotions are sent by E-mail every weekday (Monday to Friday). On weekends we encourage you to be creative and study on your own in any area of Scripture where God leads you.
You can start from Day 1 at any time. Messages are sent automatically. Subscribe now! You may unsubscribe at any time.
About the author
Pocket Devotions are written by Mike Brooks. A retired businessman, he is Moderator of South Shores church, leads the Deacon Board, serves on the finance committee, and he teaches a Men's Bible study and the Men's Ministry. Mike has a passion for evangelical missions. He is the husband of Sherry; the father of Ryan, Natalie, Krissy, Rebecca, and Amanda; the father-in-law of Ariel; and the grandfather of Conner and Christian.